Our 57mm brushless DC motors possess durability, reliability, and efficiency one expects from a brushless design. Low noise and low vibration are also reasons to choose a brushless DC motor for your next project. Typical applications include madical instrument, textile industrial, stage ligting, fans and other machines, etc. Choose a baseline version or request your own customized configuration.
Features:
High torque even at low speeds
High torque density and high torque efficiency
Continuous speed curve, wide speed range
Highly reliability with easy maintenance
Low noise, low vibration
CE and RoHs approved
Customizations on request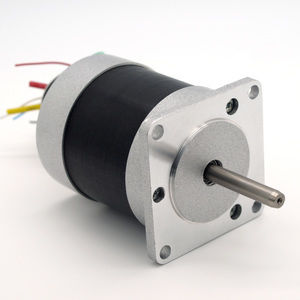 | | |
| --- | --- |
| Winding Type | Delta or Star,3 phase, 4 pole |
| Hall Effect Angle | 120 degree electrical angle |
| Shaft Runout | 0.025mm |
| Shaft Radial Play | 0.025mm@460g |
| Shaft Axial Play | 0.025mm@4000g |
| Max Radial Force | 75N @20mm from the flange |
| Max Axial Force | 15N |
| Insulation Class | Class B |
| Dielectric Strength | 500V for one minute |
| Insulation Resistance | > 100MΩ, 500V |
Submodels
The following are common submodels for the LDO-57BL series. Click to request a quote and/or more information on a specific submodel.
| | Rated Voltage | Rated Speed | Rated Torque | Peak Torque | Peak Current | Power | Line to Line Resistance | Line to Line Inductance | Torque Constant | Back EMF | Rotor Inertia | Body Length | Approx. Weight |
| --- | --- | --- | --- | --- | --- | --- | --- | --- | --- | --- | --- | --- | --- |
| Part No. | (V) | (RPM) | (mNm) | (mNm) | (A) | (W) | (Ω) | (mH) | (mNm/A) | (V/kRPM) | (g⋅cm^2) | (mm) | (kg) |
| LDO-57BLS/R45 | 36 | 4000 | 55 | 160 | 3.50 | 23 | 1.1 | 10.0 | 53 | 5.55 | 30 | 45 | 0.25 |
| LDO-57BLS/R55 | 36 | 4000 | 110 | 390 | 6.80 | 46 | 1.5 | 4.2 | 63 | 6.60 | 75 | 55 | 0.5 |
| LDO-57BLS/R75 | 36 | 4000 | 220 | 700 | 11.5 | 92 | 0.7 | 2.2 | 63 | 6.60 | 119 | 55 | 0.75 |
| LDO-57BLS/R95 | 36 | 4000 | 320 | 1000 | 16.5 | 133 | 0.45 | 1.4 | 63 | 6.60 | 173 | 95 | 1.0 |
| LDO-57BLS/R115 | 36 | 4000 | 430 | 1270 | 20.5 | 180 | 0.35 | 1.0 | 63 | 6.60 | 230 | 115 | 1.25 |