16mm DC gear motor series
Our DC gear motors combine a compact structure with reliable performance and provide high torque at low speed. Other benefits include wide voltage ranges and speed. Applications include: electrical drive toy, toothbrush, electrical lock, electrical tools, vending machine etc. Choose a baseline version or request your own customized configuration
Features:
Low noise, low current, and no spark
Small size with low velocity and high torque
Stable speed
Customizable Voltage-speed curve
CE and RoHs approved
Customizations on request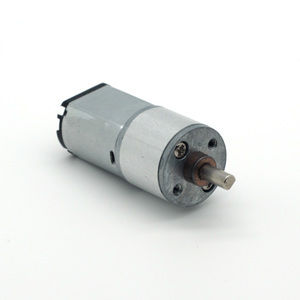 | | |
| --- | --- |
| Rated Voltage | 5V |
| No Load Speed | 100RPM |
| No Load Current(mA) | 50mA |
| Speed | 77RPM |
| Current | 170mA |
| Torque | 0.3kg.cm |
| Output | 0.23W |
| Stall Torque (mNm) | 127mNm |
| Stall Current(A) | 0.55A |
Gearbox Length

Gear Ratio

11
13
16
N/A
N/A
12.5
26
32
37
45
14
75
91
105
128
15.5
148
182
210
256
17
592
723
825
1021
There are several important criteria to consider: output torque, output speed, physical size, supply voltage, and supply current etc. Once you determine these key criteria, we can find a suitable model for you. Feel free to contact us, we are more than happy to help you with the selection process.
Certainly, most of our customers request custom configurations in one form or another. If you plan on replacing a motor in an existing application, just send us a drawing or sample and we can help you find a suitable replacement. Alternatively, contact us and describe your application, our engineers will work with you to create a tailor-made solution.
If you are ordering samples of standard models, we can usually have them shipped and delivered within 5 days by air. When requesting custom motors, please allow us a 4-5 week lead-time.
We are very flexible with shipping and have dealings with most major courier services around the world. When placing an order, simply provide us a shipping address and contact information, we will handle the rest. If there is a forwarder or courier you prefer to use, just let us know and we will accommodate.
Delivering quality products is an absolute priority for us at LDO. We have test procedures throughout the manufacturing process starting from individual components. If you need a specialized motor from us, we also augment our existing test plans with custom testing solutions. In the rare case that an issue does arise, we will work with you to solve any problems in a timely and transparent manner.
Yes, we can provide OEM services for volume production. Feel free to talk to us about your branding needs.
Submodels
The following are common submodels for the LDO-16GM030 series. Click to request a quote and/or more information on a specific submodel.
| | Rated Voltage | No Load Speed | No Load Current(mA) | Speed | Current | Torque | Output | Stall Torque | Stall Current(A) |
| --- | --- | --- | --- | --- | --- | --- | --- | --- | --- |
| Part No. | (V) | (RPM) | (mA) | (RPM) | (mA) | (kg.cm) | (W) | (kg⋅cm) | (A) |
| LDO-16GM030-105 | 5 | 100 | 20 | 77 | 170 | 0.3 | 0.23 | 1.3 | 0.55 |
| LDO-16GM030-210 | 5 | 56 | 60 | 44 | 190 | 0.6 | 0.36 | 2.8 | 0.7 |